Each home is tailored completely to the client, with input from the client and with our Camden team guiding them through the decisions that must be made to build a custom home. We can also help you choose a location for your dream home.
Camden Homes uses the most current materials and products available today. From foundation to the smallest light switch, from flooring to roofing, your home will be built for enduring quality and exceptional value. Our hallmark is excellence.
Camden Homes has experience building a number of LEED Certified homes around Cincinnati. In fact, Dutch Cambruzzi, owner of Camden Homes, lives in a LEED Platinum home in the City of Cincinnati with his wife Dori. Camden is very conscience to energy efficiency and water usage issues and can guide clients through the LEED points and certification process.
There are times when there is too much craftsmanship in a historic home to tear it down, but the house doesn't perform as the current market demands. When a beautiful old home is in need of a significant addition or a top-to-bottom renovation, you can rely on Camden Homes to realize design potential and to maintain the integrity of the home original character while improving the home's functionality.
"We take special care to learn what you want in your dream home and use our 40 years expertise to take your dreams from concept to completion, while providing the best in design, craftsmanship and outstanding client service."

– R.A. Dutch Cambruzzi
Camden Interiors has professional interior designers who will accompany you to meet with all of our material and product suppliers to guide you through the selection(s) process. We do this to ensure you are making informed / intelligent decisions. Camden's decades of market experience bring valuable perspective to interior and exterior design decisions.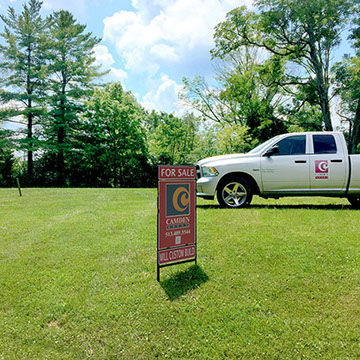 If we don't have a building lot in our inventory that meets your needs we likely know of one that will, and are happy to approach the owner to try and secure it for your new build. We have staff that can help search not only MLS listed properties, but we also specialize in finding unlisted vacant lots and tear-down prospects.